Sophie Dee And Friends!
by K-Rock
It's live! SophieDeeAndFriends.com is ready to roll. DHD members can get access to all sorts of nasty Sophie Dee doing what she does best – being slutty! Here's a bit of a preview with her friend Katie Kox…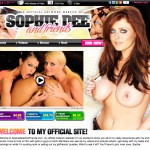 If you're already a member of DHD, your pile of porn just got bigger! If you're not, well… don't you want a pile of porn at your disposal? I mean, it's not like the cops will beat you up for having a Dirty Hard Drive. Do yourself a favor and join!