Katie Kox/Kiera King TOGETHER For Tomorrow's Cam Show!
by K-Rock
Tomorrow night will be an awesome night for Dirty Hard Drive members! That's because DHD babes Katie Kox and Kiera King will be doing a cam show TOGETHER! If you're a member and a regular viewer of our cam shows, this is going to be one you don't want to miss!
The show starts at 8pm Pacific, so make sure you tune in and watch!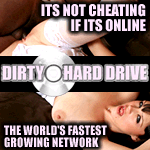 Of course, if you don't have a membership to Dirty Hard Drive, you'll totally miss out on these two! Join today and not only will you get access to Katie Kox's and Kiera King's sites (that include their weekly cam shows), you'll get to see all of Dirty Hard Drive's pictures and videos. So much smut, you'll have to invest in some serious lotion.